House of Worship Solutions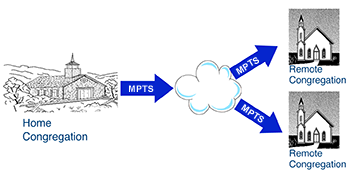 Audio and video production techniques for House of Worship applications now rival the capabilities of high end television production studios. Even the modest modern church often provides image magnification of the worship leader, graphics of hymnal and scripture support for the convenience of the congregation. The use of high definition cameras and multiple synchronized displays is the norm in such churches.
Another trend is the remote worship campus. As congregations grow beyond the capacity of normal houses of worship, many congregations choose to expand to multiple locations in order to keep the congregation a manageable size.
Combined Solution

Pelican Video encoders in conjunction with the DVStor transport stream recording and playout system from Pixelmetrix provides the ideal solution.
In this solution, multiple video feeds and multiple audio are multiplexed to form a single transport stream which is recorded on DVStor2. Each remote campus can log in to the DVStor and establish a separate delayed playback session. Program delays as short as ten seconds or as long as several hours can easily be established, and each playback session is independent from the others and from the recording itself.